31 Encouragement Quotes on Confidence, Conquering Fear and Your Attitude
Confidence building quotes on effort, overcoming fear and having a strong mental attitude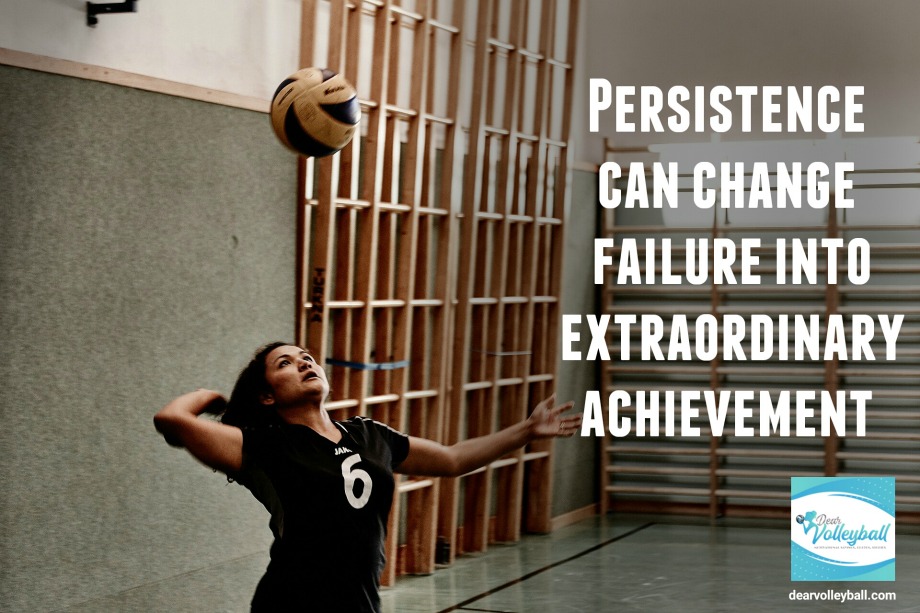 Persistence can change failure into extraordinary achievement and other encouragement quotes on dearVolleyball.com
A collection of 31 encouraging quotes from well-known coaches of various athletic disciplines. 

Encouragement Quotes for Players
The Importance of Applying 100% Effort in  Practice
You may put in a ton of time practicing setting reps against a wall, or performing passing reps to a pepper partner or serving by yourself in an empty gym.
You may spend hours in the gym making yourself stronger by lifting weights or doing agility drills so you can improve you balance, speed and quick reflexes to the ball. 

But nothing works if your head isn't in the right place.
What you need to know is that you won't make real progress with your game and playing efforts until you check your 'self talk' and really evaluate what you say to yourself when you are alone. 

This is how you begin to build confidence and self esteem. You need to talk to yourself positively, lifting yourself up. 
Below are a collection of encouraging quotes that will help you begin to think positively and talk positively to yourself and your capabilities. 
Play and practice like you are trying to make the team.            
–Mike Krzyzewski
No one's ever gotten better by practicing less.                          
–Ron Jaworski

Play and practice like you are trying to make the team.            
–Mike Krzyzewski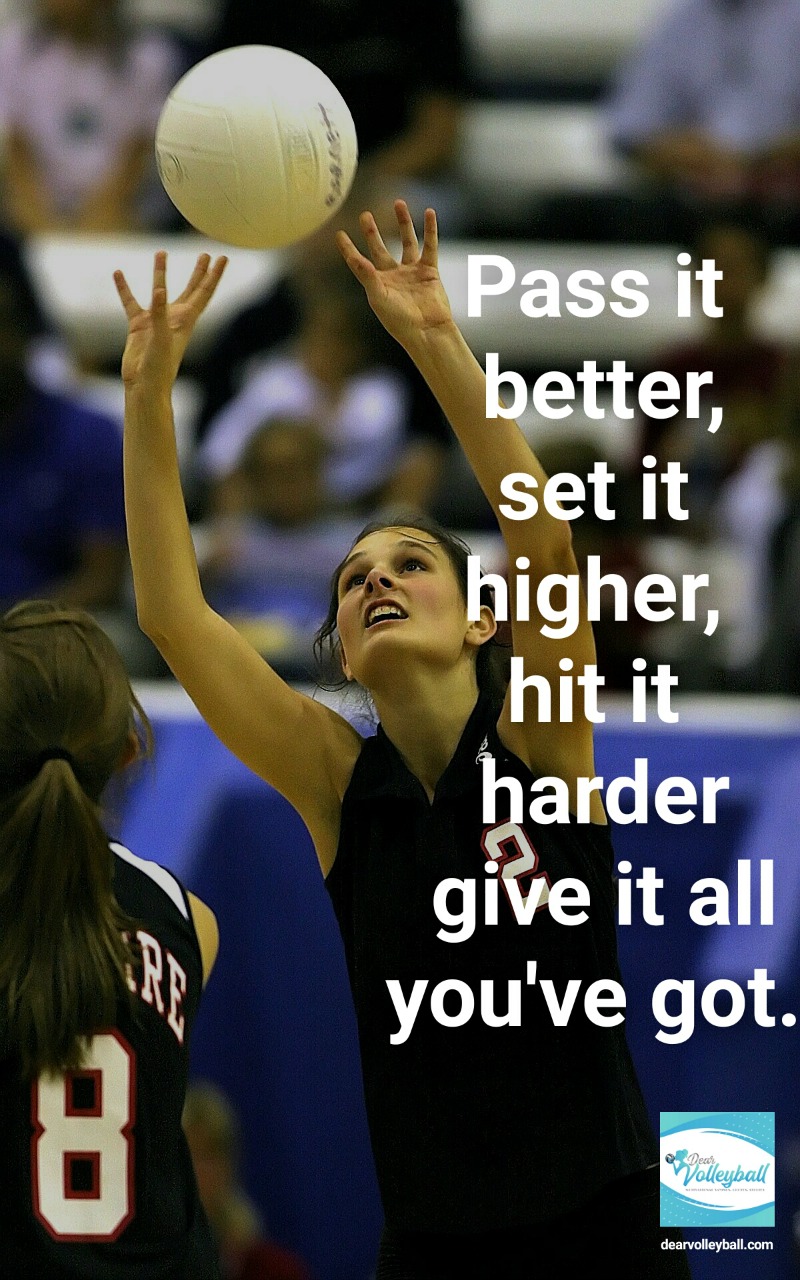 Pass it better, set it higher, hit it harder give it all you've got and other encouragement quotes on DearVolleyball.com
No one's ever gotten better by practicing less.                          –Ron Jaworski
Focus all your effort on what is in your power to control. – John Wooden
Everybody has to bring his 'A' game. The combination of individuals being able to do that is what creates the identity of the team.                                                                                        
–N Saban

Dominate the effort plays.                                                              
– Brad Stevens
If a man (person) is a quitter, I'd rather find out in practice. I ask for all a player has so I'll know later what I can expect.        
– Bear Bryant
Competitive people, that's what gets you over the top. Show your teammates, the fans your coaches how competitive you are.                                                                                                        
-Mike Babcock

Effort without talent is a depressing situation... but talent without effort is a tragedy.                                                                  
–Mike Ditka
There are no magic plays. You win based on effort, unmet focus and being brilliant at the little details.                                  
-Steve Kerr
Good things happens to those who hustle.                                  
-Chuck Noll
You have to earn your right to win the game with effort and togetherness. 
-Anonymous
 Quotes for Players  




Build Self Confidence from Tough Situations




Self-confidence is the first requisite to great undertakings. 
-Samuel Johnson
"I count him braver who overcomes his desires than him who conquers his enemies; for the hardest victory is over self."                                                                                                
-Aristotle



Motivating Quotes for Players 


Conquering Your Fears


If you want to conquer fear, don't sit home and think about it. Go out and get busy                                                                
-Dale Carnegie
Never say never because limits like fears are just an illusion and other encouragement quotes on DearVolleyball.com
Encouragement Quotes for Players
A Player's Attitude
You must accept the fact that you have flaws and will need to work every day to become a better player than you were yesterday.                                                                      
– Dale Brown
You need to work as hard to be a great teammate as you do to be a great player.                                                               
–Jon Gordon
Attitude is everything new day new strength new thoughts and other encouragement quotes on dearVolleyball.com
Be accountable if you want to count.                                      
–Harvey Mackay
Failure by itself is not something anyone wants. It's the success that follows failure that we all seek.                        
– Anjali Sastry
There is only a 1/2 step difference between the champions & those who finish on the bottom. And much of that 1/2 step is mental.                                                                              
–Tom Landry
Never give up. You only get one life. Go for it!                          
-Richard E. Grant 

Promise to think only of the best, to work only for the best, and to expect only the best in yourself and others.                      
-John Wooden
An effective leader allows exceptions to the rule for exceptional results or when circumstance demands.                
-John Wooden 
If you are going to be a champion, you must be willing to pay a greater price.                                                                      
-Bud Wilkinson
To be successful, you have to learn to do things you don't like. You find ways to like the process and make the most of that time.                                                                                    
-Coach K
Related Links: 
Strength Quotes
Funny Motivational Quotes
Challenge Quotes
Best Motivational Quotes
Volleyball Team Quotes