12 Self Confidence Quotes and 4 Ways To Be A Confident Volleyball Player
Learn four ways I teach my Boot Camp Class players to be confident on the court
With confidence you've won before you started and other self confidence quotes on DearVolleyball.com
12 Self Confidence Quotes and 4 Ways To Build Confidence 
There are five things that I teach and/or do here in Las Vegas in my Volleyball Voice Boot Camp classes and lessons which aim to build confidence among our players on and off the court. 
Experience on the Court Builds Confidence
You need the experience of playing a lot. Play, play and play. 

One thing, I can tell you is that it takes experience to improve.
Playing a lot of volleyball helps you gain confidence because you start seeing the same things happen on the court over and over again. 
When you get used to the other team serving you over and over again, or hitting at you over and over again then after a while the newness wears off and you get used to having the ball come at you hard and fast.
1000 Repetitions: Reps and More Reps
The second thing that builds confidence in volleyball players is doing hundreds of repetitions of a skill.
Its true, practice makes perfect. 
In practice, doing a skill over and over again hundreds of times, correctly, helps you build confidence . 
Let me add, you have to practice the way you would play in a game. 
In my practices, I don't talk for hours to my players. It's super important that the players get hundreds and hundreds of quality reps and touches so they build confidence on being able to control the ball. 
Answer this question....
Are you going to be ready and confident to play a game if you've touched a ball 30 times in 10 ten minutes or 300 times in three minutes? 
Treat Every Practice As If its An Important Match 
You have to practice the way you would play in a game. 

Remember you are trying to gain confidence on the court, so if in practice you play at 30% effort, then in a game you wont know how to play at 100% effort because you haven't practiced at 100% effort.
You will play at 30% of your effort because that's what you have taught your body to do.
If you play at 30% effort and you are surrounded by players who are going harder giving their 100% effort I can guarantee you, you will be substituted out of the game.

A team is effective when everyone on it is giving their maximum effort. If you aren't, that doesn't build your personal confidence but even worse it doesn't build confidence among the teammates who play with and rely on you.
You need to treat your volleyball practice as if you were playing a match. Every ball matters, every effort matters, every movement matters, every effort that you give....matters. 
Its not just the skill you are practicing but your  "effort" your "concentration" your "focus"..this is what develops a stronger mental game for you. 
In practice,
don't let your mind wander
don't look at who's watching you from the bleachers. 
don't focus on who's coming into the gym. 
You want to build confidence? 
The only thing that matters in practice is what the coach is saying and the ball. 
Practicing with this high level of
effort
focus and
concentration
will transfer into how you compete and play in your games.
Another thing I coach my players on a lot..is the importance of communication on the court. 

Talking about what's going on the court helps build confidence because it forces you to tell yourself and others what you see going on and what action is taking place. 
First, this keeps you in the present which means you can't think about past mistakes while you are thinking and talking about what is going on in the present.
Talking on the court keeps you out of your own head and focused on the ball and the action as it happens. . 
Talking on the court keeps you out of your own head and from thinking too much.
Your teammates need to hear from you and by talking and letting them hear your voice during each volleyball action builds confidence among you and the other five people playing on your court. 
12 Self Confidence Quotes for Inspiration
Looking for self confidence quotes to help motivate you for your next match? 
With confidence you've won before you started and other self confidence quotes on DearVolleyball.com
Champions Train Losers Complain
-Self Confidence Quotes
Winners Never Quit, Quitters Never Win
-Self Confidence Quotes
Its okay to be nervous before a game.
If you're nervous, it shows that you care.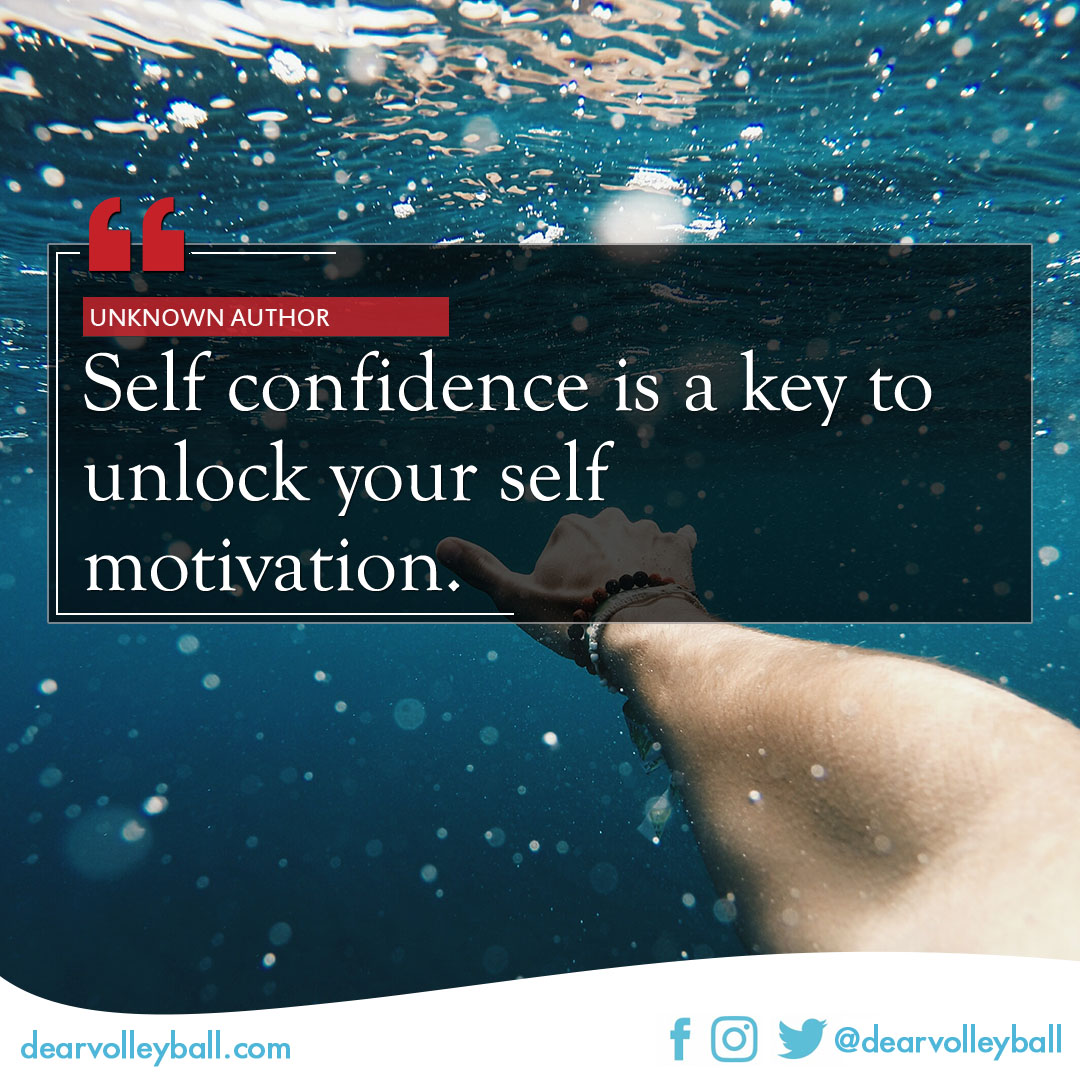 Self confidence is the key to unlock your self motivation and other self confidence quotes on DearVolleyball.com
Self confidence is a key to unlock your self motivation
The man who has confidence in himself gains the confidence of others
Hope is the power that gives a person the confidence to step out and try. 
Never bend your head. Always hold it high. Look the world straight in the eye. 
You have to have confidence in your ability, and then be tough enough to follow through. 
Self Confidence Quotes from Misty May Treanor
its not how good you are
its how good do you want to be
Play for the name on the front of your jersey.
People will start remembering the name on the back. 
The FIVB produced a great volleyball inspirational video featuring some of the top players in the world at the time, featuring Russia's Ekaterina Gamova, USA's Destinee Hooker with words from Will Smith. 
"If you have a dream, protect it. If you want something, go get it."
Epic Volleyball put together an inspirational video featuring some of the top collegiate female volleyball teams in action. 
Watch for inspiring self confidence quotes throughout this motivational video .

Confidence in Volleyball video by Allison Wood
Be Inspired!
Check out more positive quotes about life in the pages below. 

Inspiration Quotes
Self Esteem Quotes
Short Inspiring Quotes
Inspirational Volleyball Quotes
Inspirational Quotes for Women

Misty May Treanor
Jennifer Kessy
April Ross
Jordan Larson
Kayla Barnwarth