10 Famous Volleyball Quotes By Icons and Legends in Other Sports
Motivational volleyball quotes by Derek Jeter, Serena Williams, Pat Head Summit  Mia Hamm, Arthur Ashe, Laird Hamilton, Bo Jackson and Michael Jordan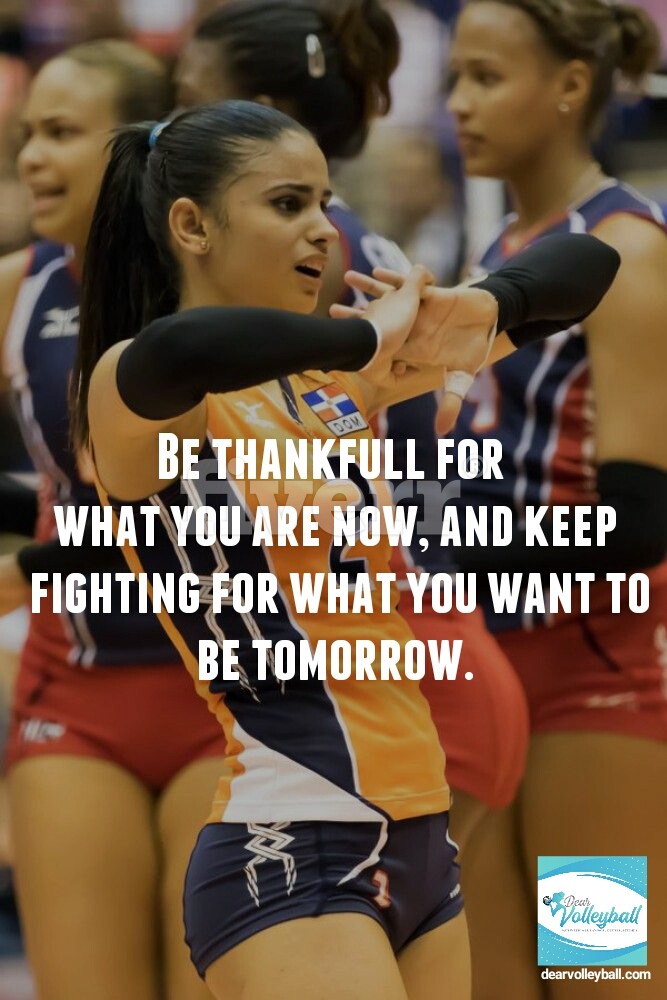 "Be thankful for what you are now and keep fighting for what you want to be tomorrow" and 10 other famous volleyball quotes by players and coaches on DearVolleyball.com
Many of these "famous volleyball quotes " are sports specific not volleyball  specific. 
Even though the actual quote works great to motivate you as a volleyball athlete, it most likely came from someone who played another sport like Michael Jordan, or his coach Phil Knight or Olympic swimming legend Michael Phelps or tennis legend Serena Williams. 

Many of these sayings and quotes are pinned on Pinterest, made into posters, collected and published on Instagram and shared on pictures and gift items. 
I challenge you to listen, learn and be inspired by these famous volleyball quotes while you work to achieve your goals. 

The following collection talks about players needing to have confidence on the court and the importance of having it when you play. 

"There may be people that have more talent than you, but there's no excuse for anyone to work harder than you do."
-Derek Jeter
"If you're behind, focus on one point at a time. Don't focus on the score. Don't focus on anything else. Just focus on that one sole point."
-Serena Williams                                                        Tennis icon and legend
"Confidence is what happens when you've done the hard work that entitles you to succeed" 
-Pat Head Summitt,                                                         University of Tennessee Knoxville Head Coach
10 Famous Volleyball Quotes By Icons and Legends in Other Sports
"Somewhere behind the athlete you've become and the hours of practice and the coaches who've pushed you... is a little girl who fell in love with the game and never looked back...play for her."
-Mia Hamm                                                                       All-Time Great USA Soccer Player 
"Make sure your worst enemy doesn't live between your own two ears"
-Laird Hamilton                                                          surfer, husband of Gabrielle Reece
"Set your goals high and don't stop until you get there"
-Bo Jackson                                                                   NFL All Star, MLB All Star
"The difference between the impossible and the possible lies in a person's determination" 
-Tommy Lasorda                                                            MLB Dodgers Head Coach 
"You are never really playing an opponent. You are playing yourself, your own highest standards and when you reach your limits that is real joy"
-Arthur Ashe                                                    Wimbledon, Tennis Great
"Confidence is contagious, so is a lack of confidence."
-Vince Lombardi
"Never say never because limits, like fears, are often just an illusion."
-Michael Jordan                                                 Basketball legend and icon
Find more volleyball sayings on the pages below. 
Funny Quotes
Best Inspirational Quotes